Hi! I'm Kathryn.
I'm a coach and author. I share the most powerful tools and practices to support you in living well, dating better and loving life.
Sign Up for a Trial Session!
The Meaning of Life is to Live a Life of Meaning.
I'm here to help you do just that.

No more autopilot. No more letting your bad habits or limiting beliefs decide just how big – or small – your life is going to be. No more squandering your life.
When we aren't aware and awake, that's exactly what we're doing. Living in trance. Going through the motions. Not really living well. Not really loving being alive.
I'm not going to pretend that if you just concentrate hard enough, you'll have magical powers that make everything in your life perfect.
Sure, that would sell me a lot of books, but it's not honest. It's not real.
And what's the point of that?!
No, I'm going to tell you the truth. Bad things happen to everyone, no matter how focused they are on the positive, on gratitude, on attracting their highest good. Not because they're not doing it right, or they're bad people. But because sometimes, there are things we need to learn that can only be learned through suffering. Sometimes, bad things are for our highest good.
Embracing the shadow, surrendering to the moment, accepting what is… that's really hard to do. I'm here to help you do it. Because I learned the hard way that it's absolutely necessary for getting out of the cycle of suffering that keeps so many people in our world trapped. Turned off. Tuned out.
After a devastating car accident left me in constant pain, I learned what it takes to truly live well in spite of pain; to break out of the cycle of suffering and into a life of meaning and wonder. To live a balanced, fulfilling, joyful life… regardless of the obstacles in the way.
That takes incredible courage. Now, I recognize the brave hearts who are ready to step into their power, and I'm here to support them in living the courageous life of joy that is waiting for them.
Using the cutting edge science of Wellness and the ancient wisdom of mindfulness, meditation and other esoteric practices, I'm creating and sharing resources to overcome even the most devastating obstacles, achieve the goals that truly matter, and create change in your life that lasts.
If I can do it, with a constant migraine level headache, so can you.
My offerings include books, one on one coaching, a blog providing awesome tools and practices to support you in creating an amazing life, a thriving social media community and more. Remember to sign up for my mailing list (right below this!) or check out my Facebook page to make the most of my (mostly free) offerings!
Save
Save
Save
Save
What My Clients Have to Say
I've been honoured to coach some amazing people. It is so inspiring to see their bravery in creating the lives they want!
"After reading a few of Kathryn's articles I felt confident that Kathryn's incredible insighfulness, and heart based wisdom would be of great benefit to me. I was honored when she agreed to become my life coach, and was thoroughly impressed by how dedicated she was. I was also impressed by how hard she worked at inspiring, and challenging me to meet my goals. It didn't take long at all for her to get me moving forward in a more efficient, and productively beneficial direction. Kathryn challenged me in a way that forced be to become a better version of myself, and helped me to show up more effectively in my life. I am grateful to Kathryn for her sharing her energy, help, support, and insightfulness with me. I would recommend Kathryn's Life Coaching sessions to anyone."
Travis Williams
"Kathryn Hogan is a dynamic woman who by coming from her heart.
She has a unique insight and tremendous ability to connect with people where they really are at, inspiring and nurturing them to move in a positive direction.
Full of curiosity to see the world's beauty and magic she is a real source of inspiration, motivation and encouragement.
Coaching with Kathryn is a truly uplifting and inspiring experience, that motivates real change for her clients."
Viola Naust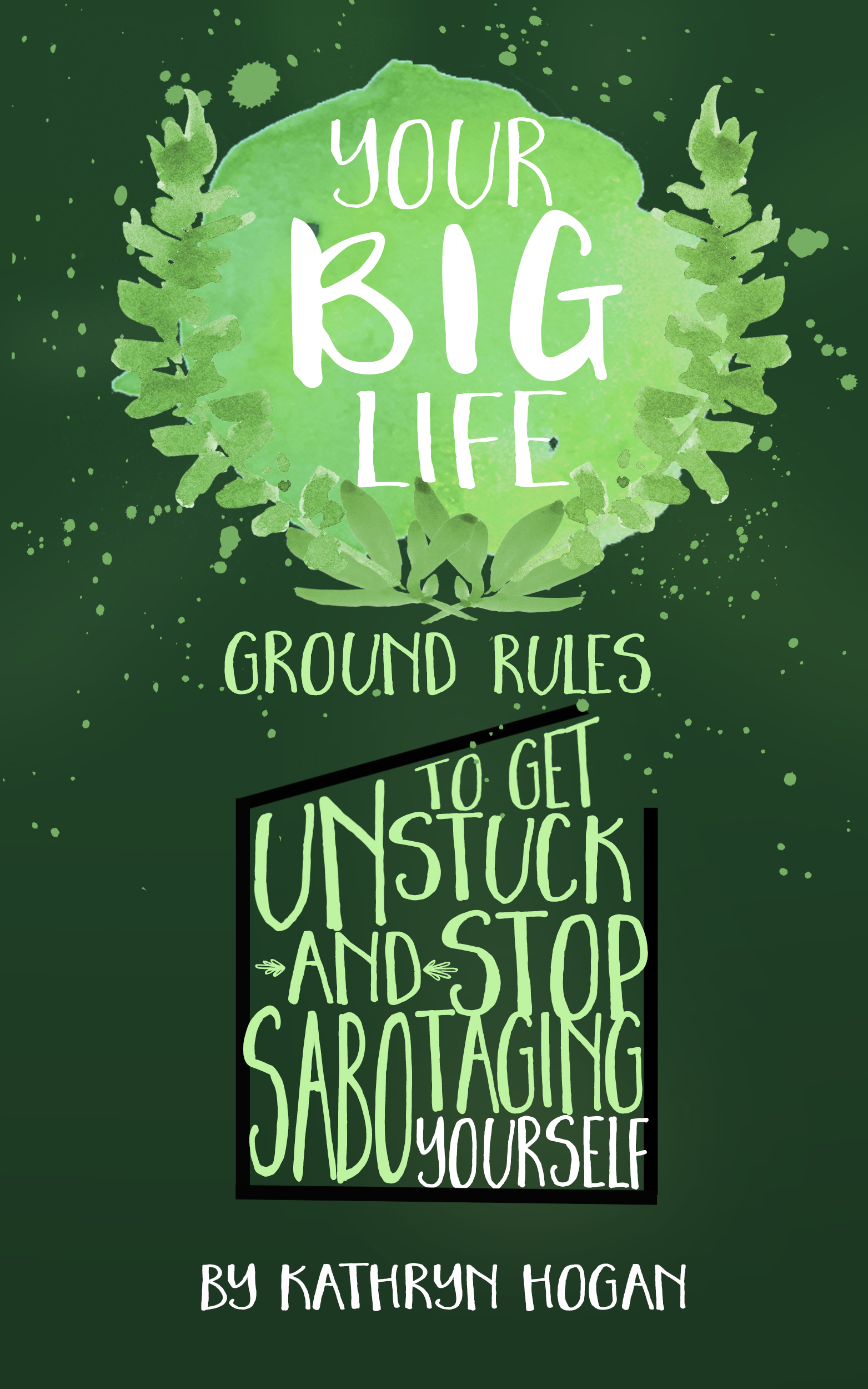 It's Time to Live Your Big Life.

 .
The Ground Rules you need to overcome the most common forms of self sabotage, so you can live a life you'll love... in a hilarious, sassy, easy to read format.

Drawing on the most powerful tools of coaching, the breakthrough science of Wellness and Positive Psychology, and the timeless wisdom of mindfulness, this book outlines a practical process for getting unstuck and creating a life you love, starting today.