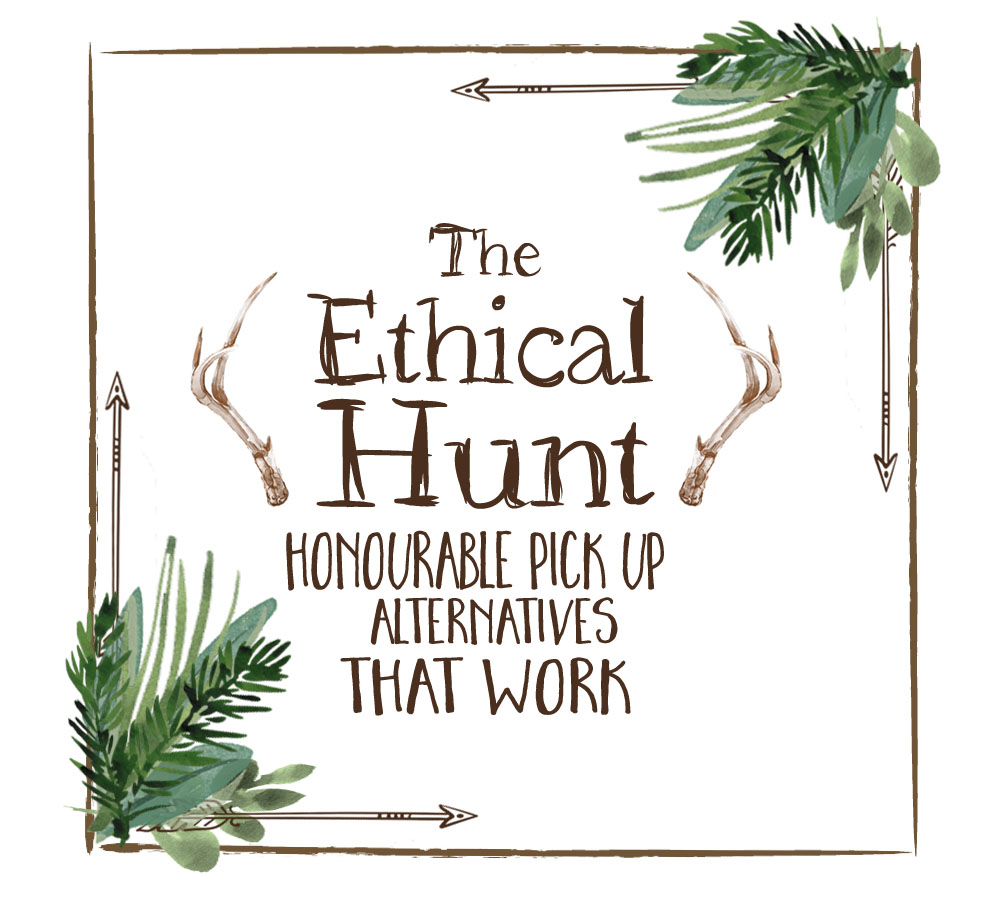 The Ethical Hunt
Achieving Your Goals With Women
Honourable dating strategies and pick up alternatives that work!
The Dating Landscape is Changing.

In this time of massive social change, it can feel like men have to be something they're not in order to treat women "right": deny the primal nature of manhood in the attempt to be a respectful guy… and risk becoming the 'Nice Guy' that's perpetually rejected as a result. It can feel like a no-win situation.
You can be respectful, kind, honourable… and still be a man! With needs. Manful needs. Who is Manfully Successful With Women! (If you know what I mean!)

The definition of 'respectful' is changing, and it can be really confusing for guys to keep up. Holding doors was very recently considered an act of chivalry – now some women view it as actively disrespectful and slap men who do it with hurtful labels like 'benevolent sexist'. How do you keep up, without compromising yourself and your identity? How do you be honest and straightforward and still 'get the girl'?
Finding a way to be honest, authentic AND successful in the dating world today is especially hard for the really good guys. The guys who aren't willing to compromise their integrity by using manipulative tactics, making sleazy advances, or playing a role (sometimes even using actual scripts), to connect with women.
I'm here to help.
You don't have to apologize or deny your desire in order to date with integrity. You don't have to choose between Good… and Good with Women.
I'm here to help you find the honourable way, in which you can be yourself, acknowledge and communicate your masculinity in a positive, healthy way, and connect with the women you care about, sexually, emotionally, and socially.
Save
Save
The Thrill of the Hunt… Without the Destruction
We all know that women aren't "prey". And acknowledging the basic, primal experience of being a man who's into a woman doesn't have to be a bad thing. Being respectful and kind doesn't change the basic biology of attraction, that visceral experience of the chase that you go through when you see an amazing woman. And while the ever evolving standards of being a good guy can be hard to keep up with, you DON'T have to change yourself in order to treat women well, connect with them, and have the relationship success you desire!
If you…
*Feel like you're on the outside looking in, aren't part of the 'club' of successful men, and are ready to step into your power and leave the sense of emasculation behind
*Are tired of seeing sleazy guys succeed with women, are ready to succeed yourself, and aren't willing to be sleazy to do so
*Feel like something must be 'wrong' with you, but aren't willing to pretend to be someone else, and instead want to connect with and be accepted by women just as you are
*Are feeling the stress of trying to prove yourself, and notice your confidence, self esteem and self love suffering as a result (and perhaps your health, sense of vitality, and personal power as well)
*Are experiencing a lack of the closeness and intimacy that you need and desire, and are feeling ashamed or lonely
*Feel like you're 'too sensitive' and are still hurting from romantic misadventures and rejections from your past
*Are judging yourself against an impossible standard, and perceive yourself as coming up short, with a body, job, personality or life that 'isn't good enough' or 'isn't attractive enough'.
*Are ready to feel that you are a success as a man
*Are ready to understand and embrace all of the strengths you possess that make you naturally attractive to women
*Are ready to experience the closeness, softness, and love of a healthy relationship with a good woman, without the need for manipulative tactics, or for changing who you are
I'm here. You deserve that. And I know you can achieve it.
Save
This is for men who are ready to step into their power.

That's not an easy task. It requires courage and commitment.
I do this work because I see how amazingly courageous men are. I started writing for and about men and masculinity after a car accident left me vulnerable in a way that I hadn't been before. I needed the people around me, and because of that need, I was able to break out of the programming that affects many women in our culture, and actually receive the support, love and presence of the men around me. I was blown away. I realized that I was literally surrounded by incredible, honourable, driven, kind, all around GOOD men. And as I got to know these men better in this new way, I realized how many of them are struggling to navigate being a good man… and succeeding with women.
I realized that I understood what they didn't: as a woman who was raised in today's political climate, who understands the politics and the values and who understands the language of women today… and who likes and appreciates men, I provide the information you need about women's perspectives, needs and language, in a way that empowers you instead of shaming you. In the language of love, there's a lot lost in translation. I'm here to help bridge the gap, so that you can show the women you care about who you really are in a way they can understand and appreciate, and so that you are empowered to understand them, too.
Your Needs are Worthwhile and Important.
As a feminine woman, I hold accepting space, allowing you to experience what it's like to be seen, known and appreciated by a woman. This experience is very healing, and provides you with the knowledge of how to recognize that accepting energy in other women. That means you're empowered to recognize and connect with the women who already appreciate you, just as you are.
I support you in building a deeper understanding of your needs, values and desire in regards to relationship, and give you the tools to communicate those things in a way that women can understand, and will respond to in a more positive way. Because I am a woman, I have insight into what women want, need, experience and prefer that men just don't. And I am eager to share that information as widely as possible: because the results of this deeper understanding between us are amazing! Great guys like you have SO MUCH to offer in relationships – and so do the great women you care about. It's time for you to connect and share all that good stuff, in a real, authentic, honest and positive way. I'm here to give you the tools to make that happen.
Save
Save
No More Superficial Changes and Short-Term Solutions: Using the Breakthrough Science of Wellness to Create Change that Lasts
Many Pick Up Artistry and other dating tools rely on pseudo-science and isolated anecdotes to try and provide an objective, quantifiable science of dating. It makes sense to want to understand dating – what works, what doesn't, and why – in a rational way. And of course, that's not fully possible: human relationships, especially romantic ones, are necessarily subjective, and subject to a wide range of non-rational factors.
But the cutting edge science of Wellness – of what it takes to create lasting lifestyle change, to heal developmental traumas, and connect with our personal power in a lasting way – provides the objective, rational framework that evolutionary psychology or NLP simply cannot (or can't in a non-manipulative way).
As a Certified Mindfulness and Wellness Coach*, I have the breadth of training and experience necessary to make the most of this powerful framework. Applying Wellness to dating and relationships ensures that the full picture of your life, desires, strengths and challenges is taken into account: that means the strategies we come up with aren't one-size-fits-all, they're specifically tailored to you. They're realistic, down-to-earth, practical; designed to get you where you want to go and empower you as a person and as a man. And best of all, using the framework of Wellness means that everything we do is designed to last.
How many times have you or a friend tried to use a fix or strategy in your dating life, only to  be stumped, frustrated and mystified… or worse, ended up humiliated, rejected and hurt? The core of wellness is understanding the need for self love and self care, as fundamental to everyone's happiness. Identifying and healing the wounds that are holding you back is just as important as clarifying your needs, goals and desired outcomes, and creating a concrete action plan… so that you can achieve success, and celebrate your successes.
Real, empowering, actionable science provides the framework for real improvement, development and strengthening in the areas that matter most to you, that lasts.
Using the framework of Wellness to create Pick Up Artistry alternatives has the added benefit of empowering you to create lasting, fulfilling, healthy and satisfying relationships. No more settling for one night stands if that isn't what you really want, and no more hiding who you really are for fear of losing the woman you care about. This is about creating a lifestyle that works for you: one that includes the relationship that you truly desire.
This takes a lot of guts and a lot of courage.
And I know that if you're reading this, you've got what it takes to step up and create the life – and relationships – you want. I'm here to help.
*My certification is still in progress – I'm doing the practicum hours as we speak, and already have the bulk of the training and experience necessary. What that means for you is that you get high quality coaching according to the International Coaching Federation guidelines, for a lower price than what most coaches charge. It's a win win!
What I Offer – Work With Me or Check Out My Free Tools
I provide free articles to help you empower yourself in your relationships with women. Read about everything from Why Nice Guys Stay Single to Reclaiming the Word Macho, or explore the other topics I've covered here. And if you have a specific issue that I haven't covered yet, are looking for more resources, or have any questions, get in touch! The best way is through my Facebook Page. I'm here to help 🙂
If you want tailored-to-you support and the benefit of my powerful coaching, check out these coaching options specific to improving your dating strategies:

Save
Save
Using the most up to date and effective assessments available, and my certified training as a Mindfulness and Wellness Coach, we will identify the struggles that are most holding you back and understand them in a new, more complete way. From there, we will create a strategy for you to implement right away, to get through the block and closer to your goals, that very day.
You'll get: written notes from the session including details of any action steps we design, and follow up support via email. (You'll get written notes and follow up support with weekly coaching, individually tailored programs, and all of my coaching packages, too!)
If our trial session speaks to you and the process feels right, we will design a coaching program just for you. Our work together will be structured in the most empowering and supportive way for you, your specific challenges, and your most passionate goals. (This is why working with me one on one is SO powerful!)
This unique coaching package is tailored just for you. Using powerful assessment technology to pinpoint the strategies that will be most effective to you, this program is flexible and powerful – which is necessary for success in today's dating world! The base package can be changed to suit your needs – we can decide on any changes together in our initial session. The base package is 12, one-hour weekly sessions, for only $1000 (Canadian dollars) paid in three increments, at the beginning of each month. The focus, goals and strategies are up to you.
What You'll Get:
Every session is goal-focused and results-oriented. In every session, we set a goal (one you choose, for example, finally asking someone on a date, updating your wardrobe, or any other goal that's important to YOU), and we achieve it.
You leave the session with a realistic plan of action, and clear goals – all outlined in the written notes I email you after our session.
Email support between sessions to maintain momentum and address unexpected obstacles to your goals
Realistic progress – no matter your obstacles and challenges, we will quantify your goals with women in a realistic, achievable way, and you will make progress towards them, guaranteed.